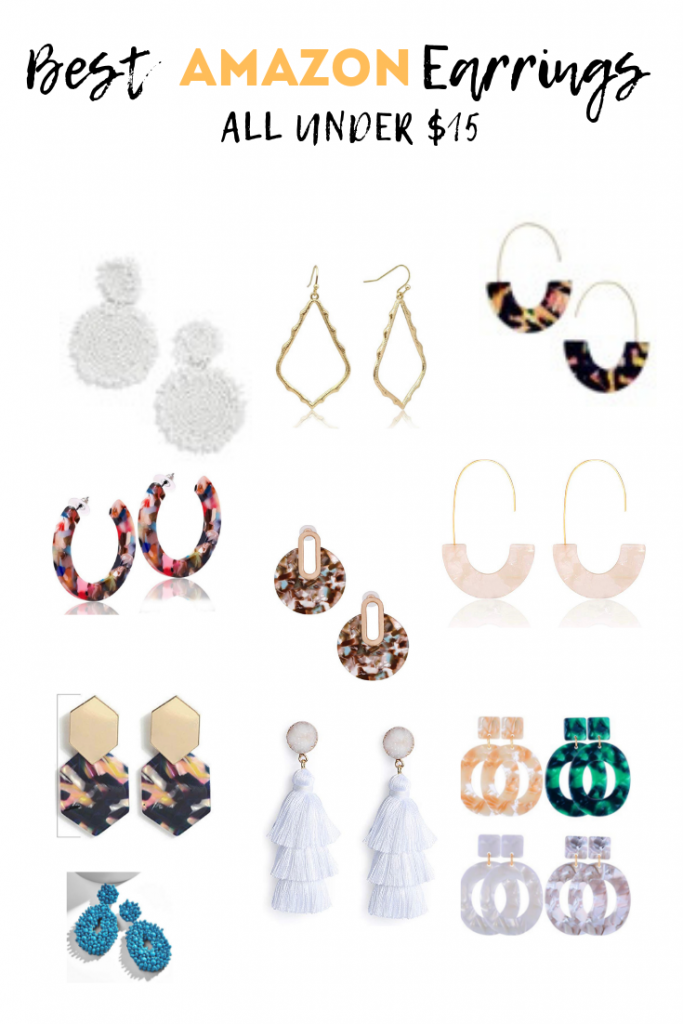 Who doesn't love Amazon finds these days? I have rounded up the best earrings on Amazon. They are all under $20. Most of them under $15. Woo Hoo!
With Amazon prime you have the 2 day shipping and that makes it even better! I know I say this all of the time. I live in Houston and we have an amazon fulfillment center not far so sometimes I can get my items the same day.
Some of these earrings are dupes too! Bauble bar dupes and Kendra Scott dupes at a great price!
All of these earrings also have so many great reviews. When shopping for items on Amazon, always be sure to read the reviews. It could save you a lot headaches if you do.
These are the best earrings on amazon because of the prices and the fact that they are dupes. They are either exactly alike or very similar to the originals.
I think you will find something you like in this variety. Beaded, resin, and dangly tassels are a few of what you will find.
The amazon dupes for these earrings are insanely close! They look exactly alike in my opinion and they are less than half the price! They also come in so many other colors on Amazon. The ones at Bauble Bar come in 4 colors.
I love the beaded look these have. They are great for a outfit on a beach vacation. They would also look cute with a summer dress or as a pop of color to a monochrome outfit.
These are seriously the best amazon dupes you can find!
Price
Amazon $15 vs. Bauble Bar $42 Buy these dupes!!
This style is perfect for the beach and poolside. They are so cute! I love how similar they are and that they come in different colors on Amazon.
These are so much alike it leads me to believe that this is the supplier for Bauble bar earrings.
If statement earrings are your style like mine, you won't be disappointed in this pair of earrings!
Price
Amazon $15 vs. Bauble Bar $42.
This pair of earrings is a staple set. They go with everything. They are so popular as well.
Now as you may know, I am all about Kendra Scott. I have so many of her pieces and I love all of them, but sadly I don't own these yet. They are on my list for sure! I might be hoping for someone to gift them to me. * hint hint husband.
While I would buy the Kendra Scott ones for $50 or even use the birthday discount for them for $25, these dupes are so similar though. If your are budget friendly and want a good staple earring these are the way to go.
They both come in a silver color and a gold as well. What do you think? Which would you get?
Price
Amazon $12 vs. Kendra Scott $50
Amazon Resin Earrings
I have seen a lot of resin earrings lately. They are so cute and summery. I have seen similar pairs at Francescas, Bauble Bar and other boutiques. I also own a few pairs myself.
The ones are Amazon are at great prices as well, much lower than what you would see at the stores. I really like all of the styles they come in as well. I have chosen some of my favorites here to share with you.
These are some of the best earrings on amazon because of the prices and they are thicker but not heavy. I own a few other pairs of earrings that are too heavy for my ears even though they are cute, I can only wear them for a short amount of time.
The Bauble bar Ball earrings are on longer on their site so I'm unable to link them for you, but this pair is very similar to the ones they had. I am not sure if you saw them all over Instagram a year ago but they were everywhere.
These are so cute and they are such a great deal. I love that even if you missed the trend they are still spring and summer trendy.
Price
Amazon $9 or 3 pairs for $12. They also come in 18 colors and styles.
Both of these earrings are really cute! The amazon ones are slightly different than the original ones from Bauble Bar but they are pretty close. Personally I like the look of the Bauble Bar ones better but if you are on a budget like I am (sometimes) then the amazon earrings are a great option as well.
The celestial trend is in right now and I love it. There are so many cute accessories on the market. I own a really cute pair of earrings too and I wear them all of the time.
Price
Amazon $9 vs. Bauble Bar $35 I mean.. yeah thats are big price difference.
All of these pairs are some of the best earrings on Amazon and I think you will love them as much as I do and you will look your best at a great price as well. Happy shopping!
Which pair of amazon earrings are your favorite?
Shop the Dupes
Other Cute Earrings on Amazon
Shop The Originals
Now that you have your favorite pair of earrings check out these cute spring and summer dresses to pair them with.
Latest Post