Hey y'all, did you have a great Thanksgiving and Black Friday shopping?
I bought so much stuff it's crazy. Today I am sharing 5 Christmas Traditions to start with your family.
Aside from the Elf on the Shelf, we try to do many activities as a family. These are our traditions maybe they can become part of yours too.
1. Bake a giant gingerbread cookie
Every year my kids and I make a giant gingerbread cookie using this pan. We named him gingie pronounced gin-g. The kids get to decorate him and then eat him. The recipe we make usually makes two so I end up giving one away.
2. Christmas light viewing hayride
Have you ever been on a Christmas hayride? It's so cold and so much fun too. We invite friends and each brings a treat and we sip on hot cocoa while singing Christmas carols. It doesn't happen every year but if not we do the same thing but in our vehicle.
3. The Christmas Train
If you live in Houston, TX or plan on visiting during the Christmas season, this is such a cute and fun place for the kids. It's located in Alvin, TX not too far from Houston. Victory camp's The Christmas Train is fun for all ages.
Tickets are $8 per person. You pick a time slot and board your trolley train at that time. The train wraps around the camp and highlights the Christmas Story of the baby Jesus.
Once your train ride is done you can have a picture for Santa for $5 digital copy. They also have a mini huge mini village and a small toy train that drives all around it. They hide a Where's Waldo in the village. Each year we race to see who can find it first.
There is also pizza for purchase on site and story time with Mrs. Claus.
This is one of our favorite Christmas traditions!
4. Gingerbread House making
Along with our giant gingerbread cookie, we make a gingerbread house as well. Once the boys are older I will have them each make their own. I love seeing their creativity unleash as they decorate the house and snack on all the candy as well.
5. Advent Calendar
This one is actually a new one we are starting this year. I have found that even with a count down chalkboard, they still don't understand when Christmas is. This will be a great new Christmas tradition for us. This is the one we are using this year. The boys are already excited about it.
List of other things we do:
Watch lots of Christmas movies
Read a lot of Christmas books
Buy a new ornament for each kid, their choice
Decorate their own mini Christmas trees
Visit a Bethlehem Town, one of my faves!!
(Mom) Go to  a cookie exchange and (kids) eat cookies for breakfast
Do a Christmas craft
Drink lots of hot cocoa
Bake cookies for Santa Claus
Christmas Eve service
Christmas bucket list
What fun Christmas traditions do you do with your family?  Which one of the 5 Christmas Traditions is your favorites? My plan for when they are older is for them to give back each year and help less fortunate.
Shop the post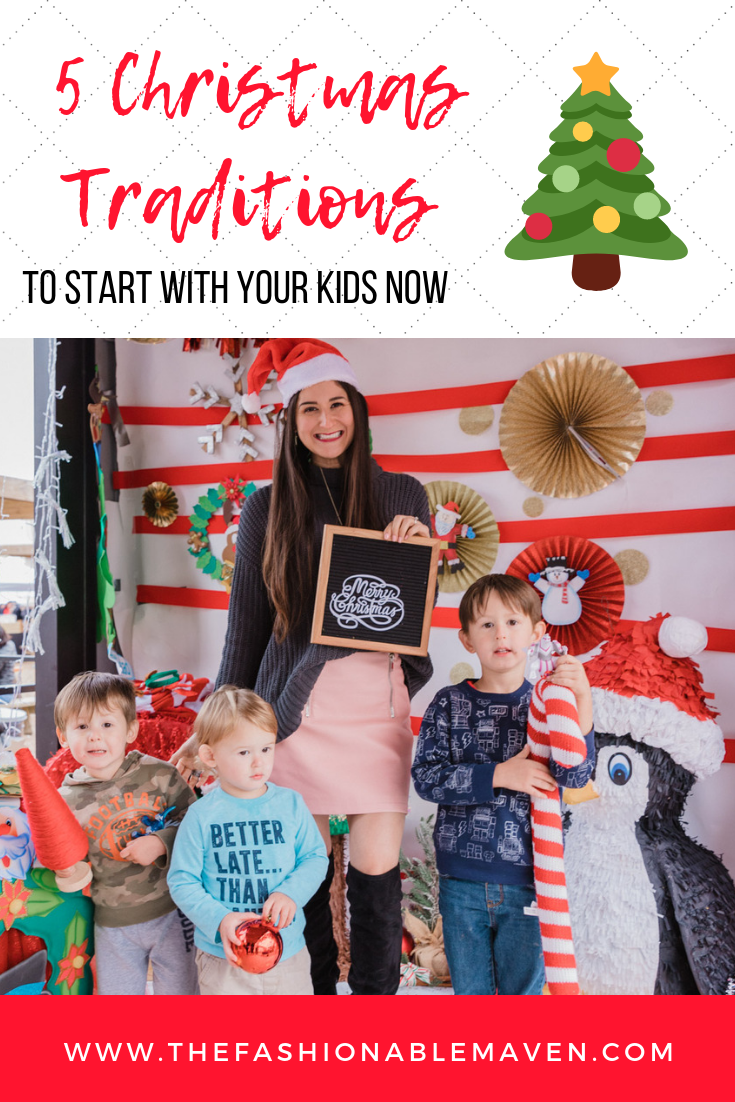 Read about Christmas Time 2017.